Tips For Designing A Healthcare Website
Medical websites are in high demand due to the increasing demand for medical services triggered by the pandemic and fast advancing technology. For healthcare providers, a website is crucial, as patients see them as the doorway to the nearest CT scan center (https://www.andersondiagnostics.com/ct-scan/) or hospitals. Web presence helps medical businesses remain competitive, without a doubt.
To ensure that your healthcare facility is highly visible, ensure that your website follows the tips mentioned in this article. Read the full list here.
Why Must Healthcare Facilities Invest In Websites?
A website is an important component of a medical practice's overall reputation and brand. It is also the most effective point of contact with patients. A visually appealing website is not enough to demonstrate skill in the healthcare industry. Input forms are necessary to improve the patient experience. To get your website to appear at the top of a search engine results page, you need to use proper SEO techniques.
But before that, you need to be aware of the functions your medical website must offer. Consider the following functions before developing one.
Medical websites should be accessible to travellers, with a navigation system that is simple and easy to use.
If your website does not allow patients to request appointments, it is pointless.
Medical website design features include the ability to conduct online video consultations with doctors.
Medical websites must accept online payments
If your website allows patients to download applications, they will not be pushed into filling out documentation.
Websites must give a detailed introduction about the doctors they will see.
Social media can increase patient satisfaction and loyalty by mixing social media with a medical website.
Having a medical website can help streamline operations within medical institutions, such as a hospital or scan centre, and create a trustworthy source of medical information. A medical website will take between 3 and 6 months to develop and will cost between $35,000 and $65,000 depending on the features of the Websites.
Developing A Medical Website: Key Features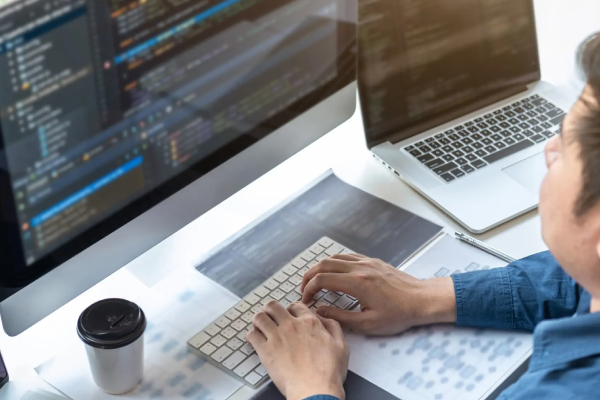 Security
A medical website should have a stringent privacy policy that defines how it handles and processes sensitive and confidential data. A medical website can use HTTPS and SSL certificates to secure a server connection, and the cost of an SSL certificate depends on the level of security provided.
Mobile-friendly
Medical website design is all about mobile adaptability. A responsive website is a website that is designed to work on a variety of screen sizes and resolutions.
A mobile-responsive website design allows users to interact with material on their favourite devices without pinching or scrolling. Optimising your website for mobile devices may increase your presence on key search engines, allowing you to reach a larger number of potential customers and clients.
To create a mobile-friendly medical website design, feature a homepage with a long scrolling scroll bar containing short bursts of information about your practice. On your medical website, include a navigation menu with a hamburger icon and allow people to call your company directly from the website. Creating an automatically mobile-friendly website will save you time and increase patient happiness.
Interactive
70% of small business websites lack a call to action on their homepage. Medical websites should include interactive elements to boost patient engagement and conversion. If your website is not interactive, you risk losing business to a competitor who has a more appealing design. Create interactive forms for your website, and make sure they are mobile-friendly.
Content marketing
Content marketing is a cost-effective way to gain an advantage over your competitors and encourage existing patients to return to your website frequently. Consider including useful content such as news and professional experience as you plan your medical website design. A medical website should include an FAQ section, patient testimonials, and a list of services you offer. As your website grows, you will need to create more content for your visitors.
User experience
Medical website navigation is critical to creating an intuitive user experience. If your visitors cannot navigate your website, they may go elsewhere. A recent study found that the ease with which a website can be navigated is the most important website element.
When creating your website, include a well-designed menu that highlights your most significant pages, and use simple names for your services and contact pages.
When appropriate, calls to action should be strategically placed across your website pages, directing viewers to high-priority sites. A comprehensible medical website design enhances the possibility of patients making appointments online.
Visually appealing
The medical website design should be visually appealing to convert visitors into customers. Using eye-catching graphics as the foundation of its design strategy,
The medical website design should incorporate a lot of imagery. Images outperform text-heavy pages in terms of views and shares. Medical website design includes high-quality photographs, videos, and photo slideshows to help prospective patients assess the quality of your offerings.
Consider the following suggestions for making your medical web design more noticeable to patients and other visitors:
Include photographs and videos that are original to you.
Use an image carousel to simplify your design and clear the clutter when designing your website.
Medical web design should include a blog, use unique graphics, and obtain permission to use diagrams and pictures created by other medical professionals.
Wrapping up:
A medical website design accessible to people with physical or mental challenges is critical. To optimise your medical website design, you must first understand that it is a continual process with many moving pieces. After you've created a consistent medical web design, you'll have to take it further and communicate your narrative through your web design.